Popular tire Sizes
13.00R25
14.00R25
16.00R25
480/95R29(16.00R29)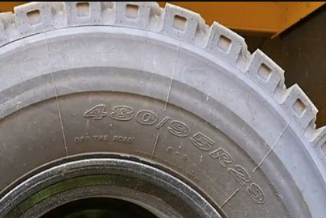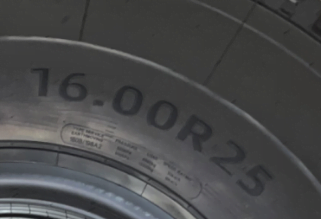 Main markets:
⨠Asia
⨠Africa
Advantage of Wide-body dump trucks
Wide–body dump truck, it is between large mining dump truck and ordinary dump truck, neither like large mining dump truck which often cost millions, nor like ordinary dump truck in the mining area operation whose stability is  relatively poorer.
Wide-body dump trucks are more like the "strengthened" type of ordinary dump trucks in structure, and because of their characteristics of large one-time loading, high transportation efficiency and good profitability, they are welcomed by large mining areas and gradually recognized and approved by users.
Generally, the road conditions in mining areas are relatively bad, especially in rainy and snowy weather, dust will make the road slippery and muddy, and ordinary dump tires are difficult to drive on ramps. Therefore, wide-body dump truck tires are required to have wider driving surface, and enjoy strong grip performance, good cut-resistance and penetrate-resistance performance, stronger load capacity.
>Truck machine models:

Famous Chinese brands for WDT tires
>Common compound
Cut Resistance
Heat Resistance
>TRA code
E3 Normally for coal mine, long haul, paved road, higher speed. Due to the characteristics of long-distance transportation and good road conditions, Heat Resistance compound are commonly used.

E4 Normally for gold or iron mine sites, short haul, bad road condition, with lower speed. Cut Resistance in winter is often more popular. Heat Resistance is for summer and long distance transportation.
>Brands and Treads
Item

Brand

Size

Pattern

TRA

Tread Depth

1

AEOLUS

14.00R25

AE33/RT

E3

26mm  

2

14.00R25

AE35

E3

25mm

3

14.00R25

AE310

E3

26mm

4

14.00R25

AE401

E4

36mm

5
16.00R25
AE33

E3

33mm
6
16.00R25

AE35

E3

36mm
7
16.00R25

AE401

E4

45mm
8
16.00R25
AE313

E3

27mm
9

HILO

14.00R25

LOFN

E3

28mm

10

14.00R25

LOFN16

E3

28mm

11

14.00R25

AN609

E3

28mm

12

14.00R25

LGXN2

E4

34mm

13

14.00R25

LOFN2

E4

34mm

14

14.00R25

LOFN26

E4

40mm

15

14.00R25

AN6092

E4

40mm

16
16.00R25
BGZN
E2
28mm
17
16.00R25
BYHN
E3
28mm
18
16.00R25
B02NT
E3
34mm
19
16.00R25
BGFN
E3
34mm
20
16.00R25
B02S
E4
44mm
21
16.00R25
BDTS
E4
46mm
22

CHENGSHAN

14.00R25

ET01

E3

27mm

23

14.00R25

ET03

E3

26mm

24

14.00R25

ET16

E4

37mm

25
16.00R25
ET02

E3

33mm
26
16.00R25
ET16

E4

43mm
27

Triangle

14.00R25

TB516S

E4

36mm

28

14.00R25

TL569

E3

26mm

29

14.00R25

TB526

E3

26mm

30
16.00R25
TB516S
E4
54.2
31
16.00R25
TL558S
E4
64.3
32

Advance

14.00R25

GLR12

E3

26mm

33

14.00R25

GLR09

E4

38mm

34
16.00R25
GLR09
E4
43mm
35

MAXAM

14.00R25

MS401

E4

37mm

36

TIANLI

14.00R25

TUE303

E3

27mm

37

14.00R25

TUE303 II

E3

27mm

38

14.00R25

TUE333

E3

27mm

39

14.00R25

TUE401

E4

38mm

40

14.00R25

TUE401 II

E4

38mm

41
16.00R25

TUE303

E3
32mm
42
16.00R25
TUE303S
E3
34mm
43
16.00R25

TUE303 II

E3
34mm
44
16.00R25

TUE333

E3

34mm
45
16.00R25

TUE401

E4

38mm
46
16.00R25

TUE401 II

E4

44mm
47
16.00R25
TUE666
E3
29mm
48
16.00R25
TUE555
E4
46mm
49

BOTO

14.00R25

GCB5

E3

30mm

50

14.00R25

E4

36mm

51

14.00R25

E919

E3

30mm

52

14.00R25

E929

E3

28mm

53

14.00R25

GCB9

E4

36mm

54

14.00R25

GCD1

E4

40mm

55
16.00R25
GCB5
E4
45mm
56

LINGLONG

14.00R25

LDO993+

E3

27mm

57

14.00R25

DM669

E3

27mm

58

14.00R25

DM668

E3

27mm

59

14.00R25

DM668+

E4

37mm

60
16.00R25

LDO993+

E3
31mm
61
16.00R25

DM668+

E4
42mm
62

Zhongce

14.00R25

CB765

E3

27mm

63

14.00R25

CB793

E3

31mm

64

14.00R25

CB793A

E3

27mm

65

14.00R25

CB393

E3

27mm

66

14.00R25

CB771

E4

38mm

67

14.00R25

CB771A

E4

38mm

68

14.00R25

CB395

E3

27mm

69

14.00R25

CB397

E3

27mm

70
16.00R25
CB208
E2
29mm
71
16.00R25
CB395

E3

34mm
72
16.00R25
CB397

E3

34mm
73
16.00R25
CB771
E4
44mm