Giti Tire is a Singapore-based Global Tire Company offering a complete range of quality tires and services.The company provides tires to more than 130 countries and is ranked among the world's largest tire companies.
Today, let's get to know GITI TIRE from five aspects—MILESTONE, PRODUCTS, SPIRIT,ACHIEVEMENT and GREEN PROTECTION.
          GITI CONTROL P10                             GITI 4X4 AT 100                                        GITI SPORT S2 
SIZES:
145/70R12   165/70R13   175/70R13   165/70R14   175/70R14   185/60R14   185/65R14   185/70R14   195/60R14  
215/75R14   175/65R15   185/55R15   185/60R15   185/65R15   195/55R15   195/60R15   195/65R15   205/65R15   195/60R16   205/55R16   205/60R16   215/50R17   215/55R17   225/45R18   235/45R18   225/45R19
                      GSR225                                                GTL919                                                 GTL925 
                     GDM686                                              GDR638                                                  GDR655
                    GAR820                                                 GAO822                                              GAL817 
6.50R16  7.00R16  7.50R16  8.25R16  8.25R20  9.00R20  10.00R20  12.00R20 9R22.5   9.5R17
10R22.5  11R22.5  12R22.5  11R24.5  12.00R24  14.00R20 195/85R16  205/75R17.5  205/85R16  215/75R17.5 
 225/70R19.5   225/75R16 225/80R17.5  235/75R17.5  245/70R17.5  285/75R24.5  245/70R19.5
255/70R22.5  265/70R19.5  275/70R22.5  275/80R22.5  285/70R19.5 285/75R24.5  295/60R22.5 
 295/75R22.5  295/80R22.5  305/70R22.5 315/60R22.5  315/70R22.5  315/80R22.5  385/55R22.5  385/65R22.5
355/50R22.5  425/65R22.5  435/50/19.5  445/50R22.5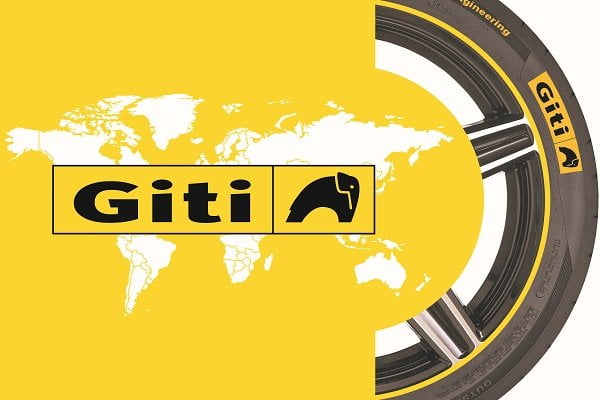 Giti Brand Look and Feel
The Giti logo and brand is designed to demonstrate its qualities as a premium, durable product, with high quality characteristics. With bold black, yellow, and white colors and eye-catching product and brand imagery, the Giti brand is given a special positioning that is complemented by its unique displays and high-quality products. Whether on a store sign or a special promotional item, we hope to bring passion through our brand.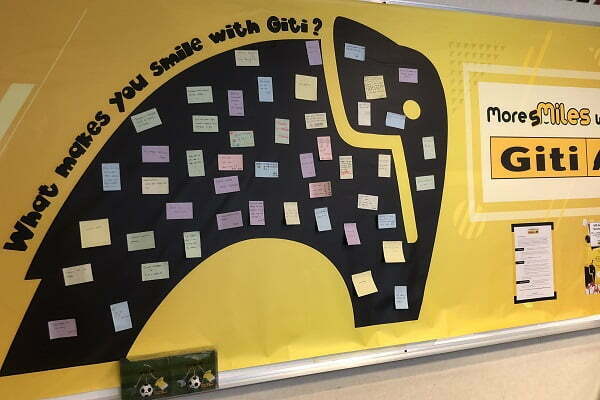 The Giti Elephant
The elephant is the main symbol of Giti, reflecting the company's long heritage from Indonesia, as well as the elephant's qualities that include durability, resilience, and strength even in challenging situations. It is encouraged to use the symbol to provide amemorable reference point for the brand. You will find Giti's elephant on everything we do, as it helps drive the company to further success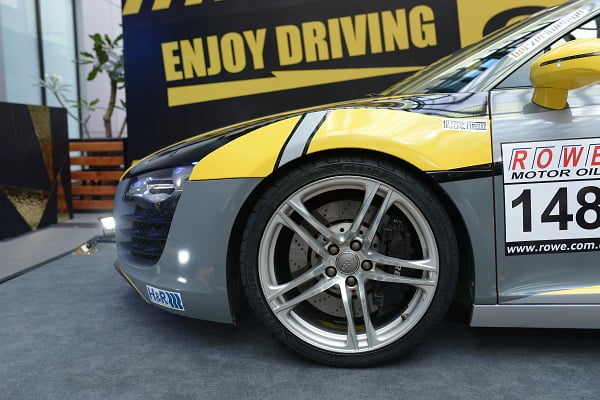 Enjoy Driving
"Enjoy Driving". These simple two words are more than just an expression: they express the passion of Giti Tire and how the company aspires to be a positive part of every driver's experience. Whether you are a mother driving their family to school or someone transporting goods across the country for business, Giti always hopes to present the best product and service to Enjoy Driving
4.1 The Brand Finance Automotive Industry 2023 also listed Giti among the top ten brands in Sustainability Perceptions Value ranking.
4.2 A Wide Network at Your Fingertips
China Production Centers – Locations Throughout the Country
United States Production Center – Chester County, South Carolina
Indonesia Production Center – Tangerang, Indonesia
5. GITI'S GREEN PROTECTION
4R CIRCULAR ECONOMY:
1 Reduce air emissions
2 Reduce water wastage
3 Reuse & Recycle
4 Reduce scrap & indirect materials
If you want to know more about GITI tires,please click on the blue button at the bottom of the screen to get in touch with us~