When it came to Aeolus, people might think of the divine of winds in greek mythology. However, after the day that a small factory was established in 1965, Aeolus is gradually well known as a excellent tire brand.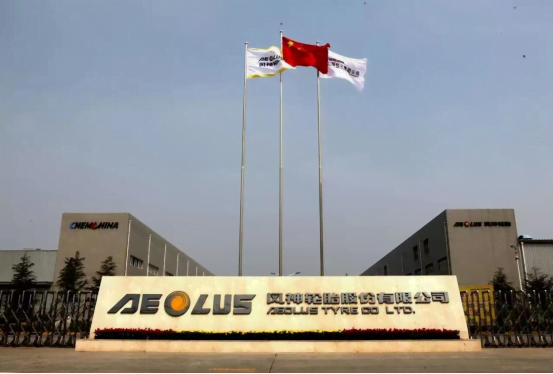 2.Product
Aeolus mainly has three type of tires, TBR tire, OTR tire,and AGR tires.
2.1 OTR Tires
Among these three types, OTR tires enjoys significant reputation at worldwide.
When Aeolus Tires was established, it began to focus on the manufacture of OTR tires. Aeolus is also the first factory in China that successfully produced giant tires.
Therefore, of course, OTR tires are known as Aeolus' star product. Since its establishment, Aeolus Tire has experienced ups and downs. Today, Aeolus has successfully become a world-renowned Chinese manufacturing brand.
| | |
| --- | --- |
| Pattern | Size |
| AR28 | 385/95R25 445/95R25 |
| A SNOW | 17.5R25 20.5R25 23.5R25 |
| AL36 | 15.5R25  17.5R25  20.5R25  23.5R25 |
| AL37 | 17.5R25  20.5R25  23.5R25  26.5R25  29.5R25 |
| AE37 | 550/65R25 |
| AE39 | 650/65R25   750/65R25 |
| AE45 | 18.00R33   24.00R35 |
| AE46 | 21.00R33   27.00R49 |
| AE47 | 23.5R25  26.5R25  29.5R25 |
| AL53 | 17.5R25   20.5R25   23.5R25   26.5R25   29.5R25   35/65R33 |
| AL58 | 20.5R25 |
| AL59 | 23.5R25   26.5R25   35/65R33 |
| AS50 | 17.5R25   20.5R25   23.5R25   26.5R25   29.5R25   35/65R33 |
| AGR20 | 14.00R24 |
| AR28 | 385/95R25   445/95R25 |
| AEX1 | 10.00-20 |
| AGP23 | 445/65r22.5 |
| AIN47 | 14.00R24   16.00R25   18.00R25   18.00R33 |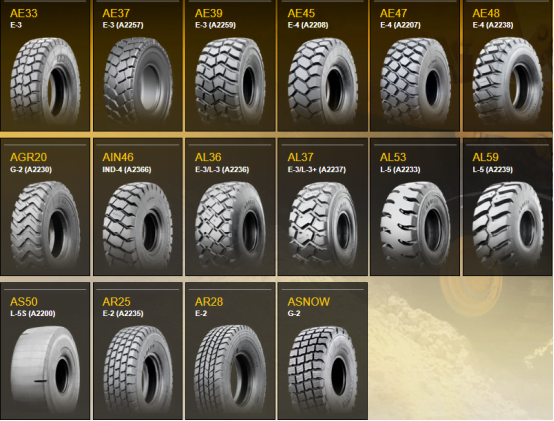 2.2 TBR tires
Since the cooperation relationship between Aeolus and Pirelli was bulit in 2016, Aeolus has started to manufacture and sell high-quality truck and bus tires. These tires adopt Pirelli's advanced technology and formula, which greatly improves the quality of the product.

2.3 AGR Tires
For Aeolus, they always keep developing the agricultural. For this tire brand, it is nice to be a front-runner, when it comes to developing a wide range of tires with strong casings and ingenious patterns, but nothing more than that. That is why Aeolus always examine what is going on around it: looking for opportunities and chasing innovations & developments.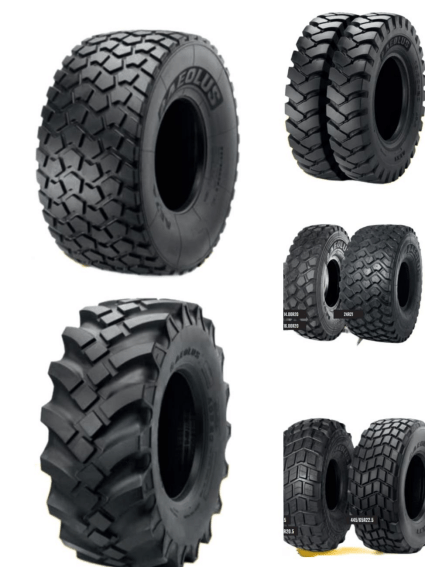 3. Advanced Technology
Since its establishment, Aeolus has been exploring tire-making. After 58 years of exploration and practice, Aeolus has successfully developed a series of advanced tire manufacturing technologies.
3.1 Three Sandwich Belts Spiral Technology
Innovative structure with three sandwich belts, combined with Spiral 0° Belt (Spiral Advanced Technology).
BENEFITS
* Enhanced even wear
* Longer tyre life
* Increased retreadability
* Improved handling, comfort, and safety
* Better steering precision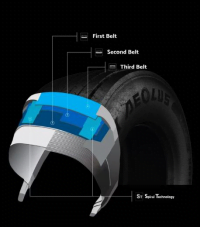 3.2 Dual-Layer Tread Compound / High Silica Composite Compound
Dual-Layer Tread Compound with High Silica content, to deliver the best performance trade-off. Internal compound with mechanical and hysteretic properties.
BENEFITS
External Compound
* Higher mileage through enhanced abrasion resistance
* Excellent grip on dry and wet condition
* Excellent resistance to low temperature
* Superior road holding
* Reduced braking distance
* Enhanced even wear
Internal Compound
* Reduced heat generation during operation
* Lower rolling resistance (fuel saving)
* Higher structural integrity and tyre life
3.3 Rotated Shoulder Rib
Innovative shoulder tread shape allowing a more balanced pressure distribution and abrasion uniformity. The rebated shoulder contour by changing the local ground pressure improves even wear and increases tyre life.
BENEFITS
* Enhanced even wear
* Higher mileage
4.Challenge and achievement
4.1 Challenge
Data don't lie.
According to the annual report released by Aeolus Tire, we made the following 3 tables, including the data total turnover, export value, production and sales volume of Aeolus Tire in recent 9 years.
4.1 .1 Output from 2015 to 2021
4.1.2 Annual turnover, export turnover and net profit from 2014 to 2021

4.1.3 Net profit from 2014 to 2021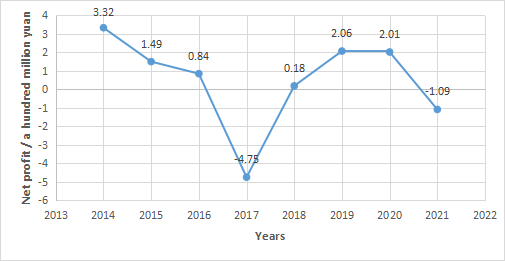 we can clearly see that after 2015, Aeolus Tire slowed down its pace of economic development, and even suffered a net profit loss of 476 million yuan in 2017.
In 2015, after Aeolus' plan to integrate the company with Pirelli encountered huge obstacles, Aeolus faced the biggest challenge on its development path. During this period, problems such as management confusion, brain drain, and wrong direction of decision-making occurred.
However, in the face of losses, Aeolus quickly adjusted its target market and vigorously promoted high-end products. Resist market uncertainties by reducing costs and increasing efficiency, fundamentally carry out product structure reforms, and enhance profitability.
Finally in 2020, Aeolus gained a huge net profit of 200 million yuan.
4.2 Main achievements
A.Developed and successfully produced giant tire 59/80R63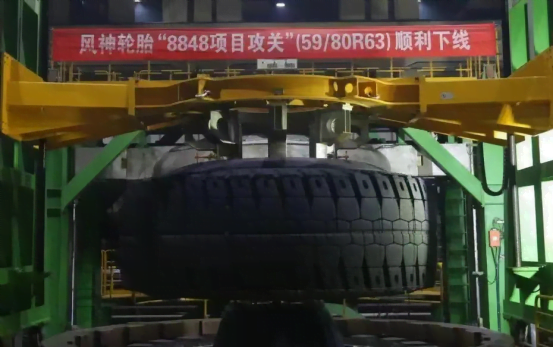 B.Aeolus Tire is a high-quality supplier of more than 20 OEMs including XCMG, Lonking, Nissan Passenger Vehicle, and VOLVO.
C.Exports accounted for half of the total turnover, and the brand was successfully internationalized.
Wind is strong and powerful.
There is a poem in China,
" The wind that has come a thousand miles;
Beats at the Jade Pass battlements."
The name of the Aeolus tire was inspired by this poem. On the one hand, it symbolizes Aeolus's unremitting pursuit of tires with high load capacity and long mileage. On the other hand, it also represents the good meaning of "smooth voyage, free ride".
Since its establishment, Aeolus Tire has experienced ups and downs. Today, Aeolus show us a world-renowned Chinese manufacturing brand.
In the future, Aeolus is more focused on improving itself. It will continue to adhere to the core values of "reliable, Professional, Striving for Excellence" and is committed to providing customers with a better service experience.