TNR offers a wide range of AWP tires, also mentioned as Aerial Lift Tires,Solid Boom Lift tires, scissorlift tires.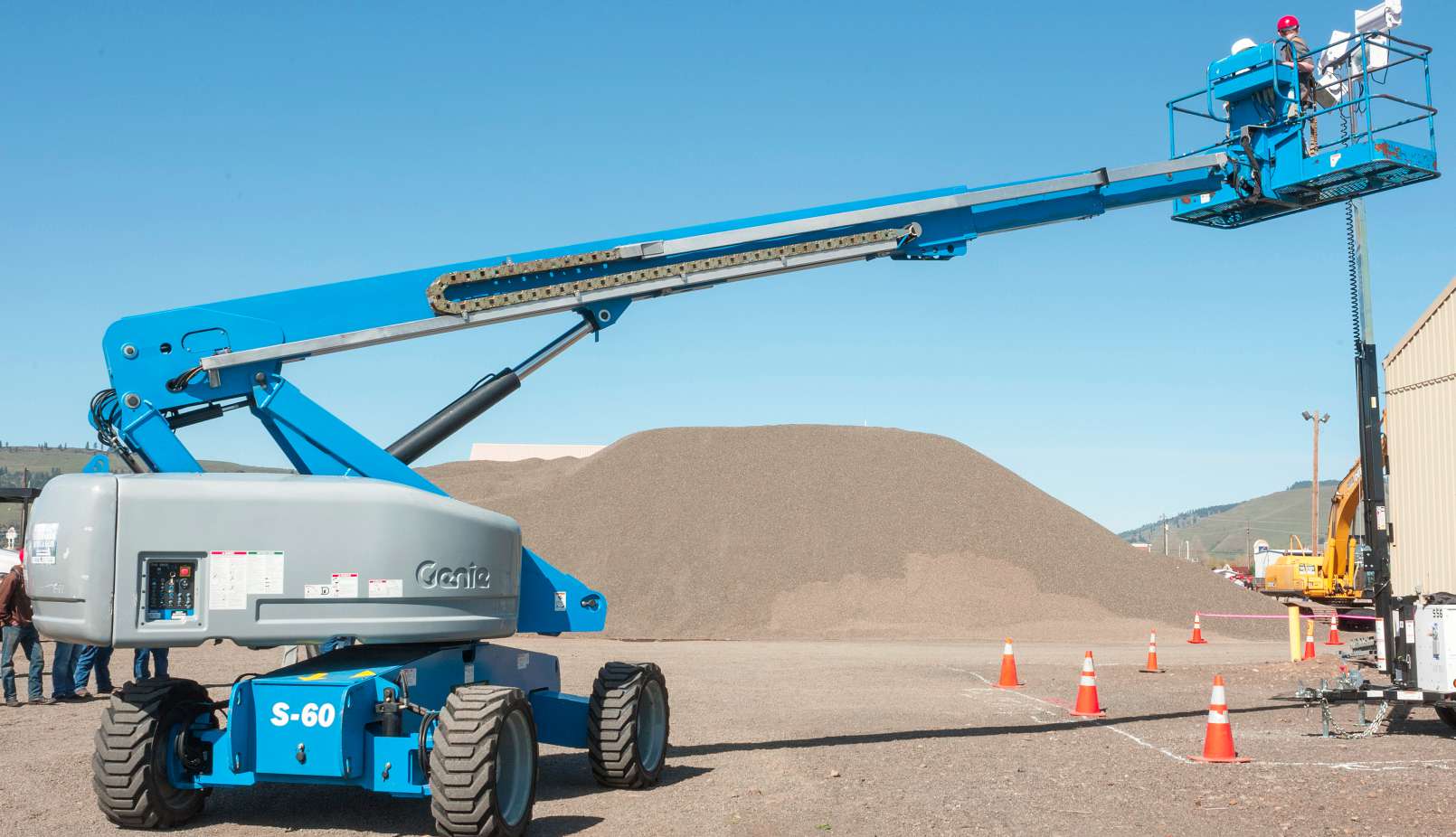 AWPs short for aerial work platforms, which together with mobile elevated work platforms (MEWPs) are used by thousands of workers all over the world every day for a near-endless list of jobs.
AWPs provide alternatives to scaffolding and ladders and allow workers to complete tasks at heights. All kinds of industries use aerial work platforms and different types of construction lifts, from landscaping companies to maintenance facilities to industrial cleaning companies and more.
The main components of an aerial work platform include a base structure (typically a wheeled vehicle to move the MEWP or AWP into place), an extending structure with chassis, and a flat workspace with controls for the operator to control the lift.
Different types of AWP tires
Air-filled Tires:  Also named Pneumatic tire, they are designed to increase the mobility of a AWP on sensitive ground conditions, such as sand and turf. Air-filled tires are engineered to "float" on soft or delicate surfaces to protect softer surfaces during operation that could be damaged by the more aggressive tread on regular rough terrain tires.
Foam-filled Tires:  Pneumatic tires that are injected with a polyurethane that adds rigidity to the tires and prevents flats. These are required on some models to provide necessary stability. They are also good for environments with nails and other ground debris that tend to puncture tires. More information of Foam-filled tires.
Rough-terrain Tires: Tires with an aggressive tread design for improved rough-terrain capability. Standard on rough-terrain models. These tires are best for unimproved sites and muddy, wet ground conditions. Many rough-terrain tire options are available as non-marking versions for jobs that start as dirt and end as slab.
Non-marking Tires:  The Non-marking tires leave no black marks on the floor and are standard on most industrial models. They are good to use if marking is a concern in applications such as late-stage slab construction.
Non-marking tires are most commonly made of solid rubber but also available in pneumatic styles.
All the AWP tire sizes could be made as NON-MARKING TIRES.
 Tire Size
PR
Pattern Code
Rim Size 
Inflation Pressure
 (kpa)
Section Width
 (mm)
Overall Diameter
(mm)
Max Load (kg)10km/h
 9-14.5
14
K01
14.5×7
700
241
705
2800
 9-14.5
14
RIB
14.5×7
790
241
705
1590
385/65D22.5 (15-22.5)
16
R4
22.5×11.75
690
390
1070
5590
445/65D22.5 (18-22.5)
18
R4
22.5×13
690
450
1150
7320
355/55D625 (14-24.5)
14
R4
24.5×11.75
520
350
940
3450
385/45-28
16
R4
28×13
750
380
1070
6000
385/50D625  (15-625)A
16
R4
24.5×13
690
386
1010
5600
445/45D625(18-625)A
16
R4
24.5×15
690
430
1030
6900
385/50D625  (15-625)B
16
R4
24.5×13
690
386
960
5600
445/45D625(18-625)B
16
R4
24.5×15
690
430
960
6900
445/50D710 (18-710)
18
R4
28×15
590
445
1180
7320
315/55D20
12
R4
20×11
550
318
848
2870
39×15-22.5 A
16
R4
22.5×13
690
375
970
6525
39×15-22.5 B
16
R4
22.5×13
690
360
940
6525
840×15.5-510
14
R4
20×14
620
392
850
3670
240/55D17.5
12
R4
17.5×6.75
690
220
715
2000
305-546
10
R4W
22.5*9.75
450
305
805
2950
14-17.5
14
R4W
17.5×10.5
550
349
935
3875
385/65D19.5 (15-19.5)
16
R4W
19.5×11.75
550
389
1006
4935
445/65D19.5 (18-19.5)
16
R4W
19.5×13
580
445
1006
6000
445/55D19.5
16
R4W
19.5×13
580
445
996
6000
33×15.5-16.5
14
R4W
16.5×12
550
400
840
3670
240/55D17.5 
12
M01
17.5×6.75
690
220
715
2000
240/55D17.5 
12
M02
17.5×6.75
690
220
715
2000
26×12-16.5
(300/40-16.5)
10
R1
16.5×9.75
400
300
665
1600
26x12D380
8
R1
15×10
380
300
665
1550
| | | | |
| --- | --- | --- | --- |
| Size | Machine | Model | Part Number |
| 10-16.5 | GENIE | Z34, GS3384RT, Z34-22RT | 139466, 139465, 139467, 139468, 131340B, 131341B, 42321, 42322 |
| 10-16.5 | HAULOTTE | H12SX(L), H15SX(L), H18SX(L) | 196P307712, 196P307702, 2601802730, 2601802720, 196P310401, 196P310391 |
| 10-16.5 NM | GENIE | Z34IC | 1279191, 1279192, 1279194, 1279193, 87239, 87238 |
| 12-16.5 | JLG | 25RTS, 33RTS, 40RTS, 400RTS, 500RTS, 3394RT/4394RT | 253087, 253088, 0270076 |
| 12-16.5 | GENIE | S40, S45 | 33406, 81492, 33407, 81493, 1271445, 1271444, 1271441, 1271440 |
| 12-16.5 NM | JLG | 3394RT/4394RT | 0270654, 0270655, 0270651, 0270652 |
| 12-16.5 NM | GENIE | S40, S45 | 102802D, 102803D |
| 14-17.5 | JLG | 600A, 600AJ | 0271611, 0271610 |
| 14-17.5 | GENIE | Z45-25JRT | 60085, 60084 |
| 14-17.5 | HAULOTTE | HA16SPX, HA18SPX, HA46SJRT | 2326014570, 2326014580, 2326014530, 2326014540 |
| 15-19.5 | JLG | 600S, 600SJ, 660SJ | 0273240, 0273239 |
| 15-19.5 | GENIE | S60, S65, Z60-34RT, S60, S65, Z60, Z60-34RT | 73182, 73183, 73261, 73260, 75581D, 75580D |
| 15-22.5 | HAULOTTE | HA20PX, HA26PX, H21TX, H23TPX, H25TPX | 148B168430, 148B168440 |
| 15-625 | JLG | 800S, 800A, 800AJ, 860SJ | 0271086, 0271085 |
| 18-625 | JLG | 740AJ, 800A, 800AJ, 800S, 860SJ | 0271091, 0271090 |
| 18-625 | GENIE | Z80, S80, S85 | 121287E, 121286E, 139829GT, 139828GT, 88258B, 88259B, 139829GT, 139828GT, 227805GT, 227804GT |
| 240/55D17.5 | JLG | E/M450AJP, 3369LE, 4069LE, M3369, M4069, E400AJP, M400AJP, E450A, E450AJ, M450A, M450AJ | 258997 |
| 240/55D17.5 (NM) | JLG | E/M450AJP, 3369LE, 4069LE, M3369, M4069, E400AJP, M400AJP, E450A, E450AJ, M450A, M450AJ | 273468 |
| 265/50D20 | JLG | 340AJ | 1001117132, 1001117131, 1001118649, 1001121678 |
| 26×12 | GENIE | GS-2669DC, GS-3369DC, GS-4069DC | 1258624A, 1258625A, 1258626A, 1258627A |
| 26×12 NM | GENIE | GS-2669DC, GS-3369DC, GS-4069DC | 1258628A, 1258629A, 1258630A, 1258631A |
| 26×12-16.5 | HAULOTTE | COMPACT 10/12 DX | 128B170820, 128P307871 |
| 26x12D380 | GENIE | GS-2668, GS-3268, GS-2669, GS-3369, GS-4069 | 79102, 79101 |
| 305-546 | GENIE | GS-3390, GS-4390, GS-5390, GS-84, GS-90 | 1260037, 1260036 |
| 315/55D20 | JLG | 450A, 450AJ | 1001166156, 1001166155, 1001170099, 1001170098 |
| 315/55D20 | GENIE | GS-3390 RT, GS-4390 RT, GS-5390, Z-45-25 IC, Z-45-25 J IC, Z51/30J | 1258761A, 1258762A, 1258179, 12581783, 1283706, 1283705, 1283709, 1283710, 217199, 217198, 237915, 237914 |
| 315/55D20 NM | GENIE | Z-45-25 IC, Z-45-25 J IC, Z51/30J | 1283708, 1283707, 1283712, 1283711, 217193, 217192 |
| 33×15.5-16.5 | JLG | 450A, 450AJ, 3394RT/4394RT | 0258011, 0258012 |
| 355/55D625 | JLG | 600A, 600AJ | 4520345, 4520344, 1001146828, 1001146827 (1001207345) |
| 355/55D625 | GENIE | 25JRT, 30JRT, Z45, Z60, Z62/40, S60, S65, S-60X/XC | 94662D, 94663D, 77790GT, 77791GT, 77791GT, 77790GT |
| 355/55D625 NM | GENIE | S60, S65, Z60 | 106647D, 106648D |
| 36/14LL x 22.5 NM | JLG | E600J, E600JP, M600J, M600JP | 0272692, 0272693 |
| 385/65-19.5 | JLG | 600SJ | 0255300, 0257866, 0271616, 0255301, 0257867, 273239 |
| 385/65-22.5 | GENIE | S80, S85 | 30994, 81530, 30995, 81531 |
| 385/65D19.5 | JLG | 60HA, 800A, 800AJ, 110HX, 80H, 100SX, 110SX, 110 SXJ | 0271615, 0271614, 0258328, 0258327, 0259442, 0259456, 0259443, 0259455, 0259907, 0259908 |
| 385/65D22.5 | GENIE | S100, S105 | 60956, 60957, 149286, 149285 |
| 385/65D22.5 | HAULOTTE | HA16PX, HA18PX, HA20PX, H23TPX, H25TPX, HA260PX | 2326014520, 2326014510, 157P310380, 157P310370 |
| 385/65D22.5 Solid | GENIE | S100, S105 | 149286A, 149285A, 149286, 149285 |
| 445/50D710 | JLG | 1350 SJP, 1200 SJP, 1250 AJP, 1500SJ, 1850SJ | 0272055, 0272056, 1001112716, 1001112669, 101147616, 101149711, 1001188461, 1001188462 |
| 445D50/710 | GENIE | Z80, S120, S125, Z135 | 227772, 227773, 139829GT, 139828GT, 1275103C, 1275102, T111703, T111702, 149284, 149283 |
| 445/55D19.5 | JLG | 800A, 800AJ | 0258334, 0258333 |
| 445/65D22.5 | JLG | 120HX | 0259444, 0259445, 0259904, 0259905 |
| 445/65D22.5 | GENIE | S120, S125, Z135 | 50188, 50032, 149284, 149283 |
| 445/65D22.5 | HAULOTTE | HA32PX, HA100RTJ, HA41PX, HA41RTJPro, H43TPX | 158P308040 |
| 9-14.5 | GENIE | Z34-22IC, Z45-25J, Z45-25DC, Z45-24BI (<16128) | 54237, 54236 |
| 9-14.5 (ND) | GENIE | Z34-22IC, Z45-25J, Z45-25DC, Z45-24BI (<16128), Z45-22 IC, Z45-22 DC, Z34, Z45DC | 45461, 45460, 45461 FF, 45460 FF, 45094 AF, 45093 AF |