Today let us enter the world of ATV tires.
What is ATV tires?
Definition:    ATV tires are the abbreviation of All-Terrain Vehicles tires.
There comes another question, what is all-terrain Vehicles?
Unlike cars and trucks, ATV equipment may sound a bit unfamiliar to us. Therefore, it is necessary to know more about this vehicle for better undertanding of this kind of tire.
According to Wikipedia, an all-terrain vehicle (ATV), also known as a light utility vehicle (LUV),a quad bike or quad (if having four wheels), is a vehicle that travels on low-pressure tires, has a seat that is straddled by the operator, and has handlebars. As the name implies, it is designed to handle a wider variety of terrain than most other vehicles.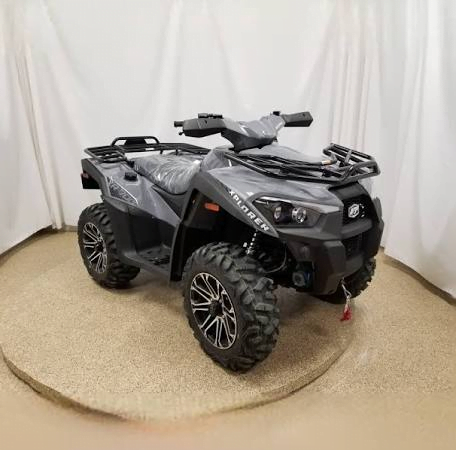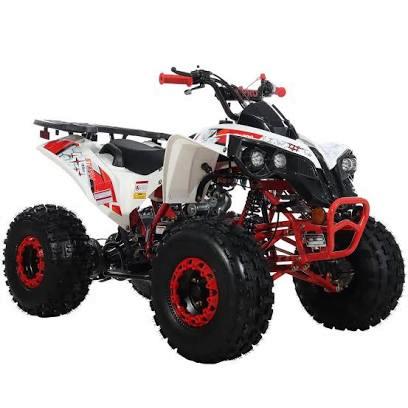 Its history and development:
What we call all-terrain vehicles today didn't come into existence until the early 1970s. In the late 1960s, one of Honda's engineers, Osamu Takeuchi, created several drafts, and eventually one of the three-wheeled designs caught the company's attention and went into production due to its maneuverability in slippery, muddy, and snowy driving conditions.
In 1982, Suzuki began producing four-wheel ATV vehicles, which also made ATV vehicles more and more popular.
Although ATVs were intended as sport and adventure vehicles, the gasoline shortage of the 1970s led to the use of ATVs for farming and agricultural activities and their conversion into utility vehicles. ATVs are much cheaper than tractors and require only 8% of the fuel used by tractors. By the 1980s, ATVs had become a utility vehicle in great demand.
Over time, ATVs have now become more than just recreational vehicles and can also be used for farming, hunting, and agricultural activities.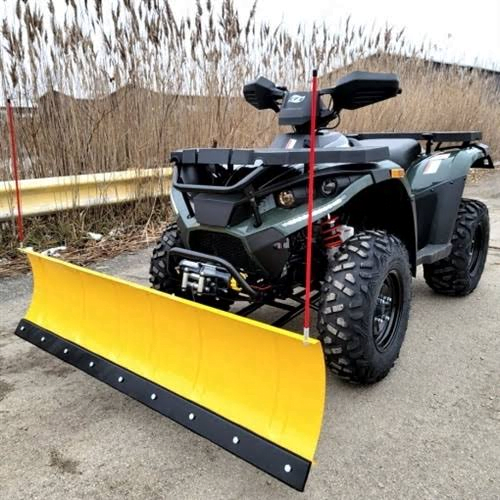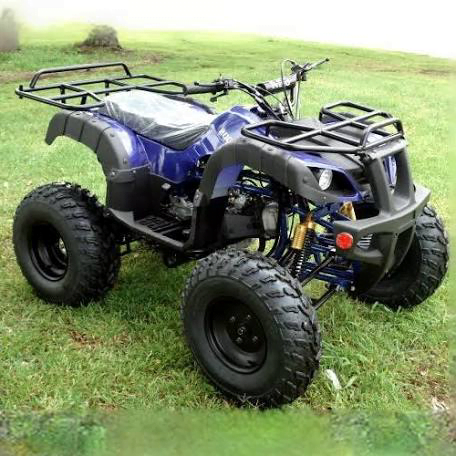 Generally speaking, there are two main ways to classify ATV tires – according to the application and according to the tire construction.
Classification according to application:
We can classify tires according to their application and location.
All Terrain
These tires are generally used in non-extreme tread conditions but do not perform well in mud or snow.
All Terrain

These tires are generally used in non-extreme tread conditions but do not perform well in mud or snow.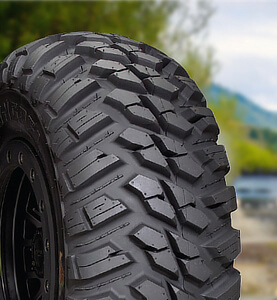 Racing

These tires have a lower speed and aggressive, uniform tread pattern that provides grip while maximizing surface contact. They offer excellent cornering, handling and control capabilities, which also require strong tires with widely spaced tread for balance. These tires will be more nimble, but that means they'll be faster.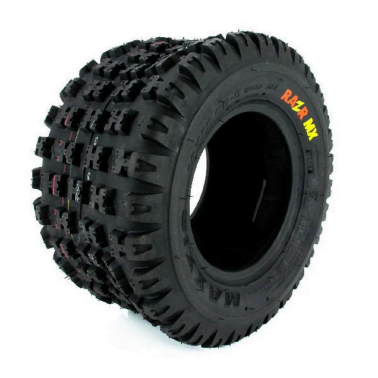 Sand tires

Sand tires look different than any other ATV tires and come with two different treads front and rear. The front features a smooth or single center rib to provide flotation and steering, while the rear features paddles to propel the vehicle across the water.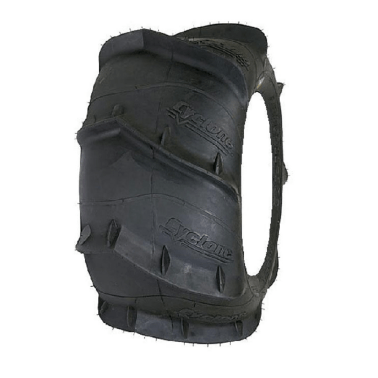 Mud and snow tires
For loose terrain, a wide and deep tread is necessary. These tires are not suitable for driving on hard surfaces such as pavement or hardpack, nor are they suitable for lawns. The tread depth should be between 1 and 1.5 inches, with large, deep lugs that look like shovels. This type of rubber will be harder. If you need extra grip, consider ATV tire chains.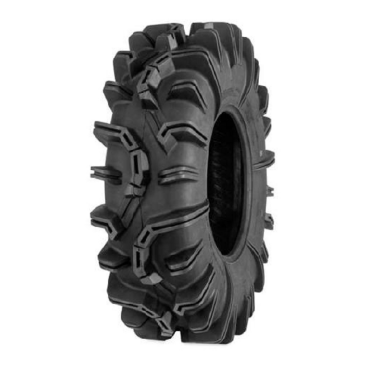 Off-road tires
Look for heavy-duty tires with a sturdy tread and a high ply rating. You want extra durable tires with more lugs on the shoulders and a tighter tread pattern to increase contact with the road. Look for deep, angled groove designs for enhanced grip on rocks.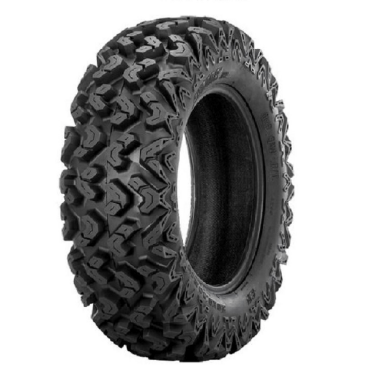 Classification according to construction
Bias tires
These tires offer greater flexibility, which is important when you need maximum contact with the terrain. They usually overlapping the center line at an angle of 30°-60°. The extra flexibility means the tires drive more comfortably over rough pavement, but they tend to wear out faster.
Radial tires
They combine ply and belt cords to provide more reinforcement. They are at a 90° angle to the center line, with overlapping beads. Because they are stiffer, they last longer and provide better control and handling than bias-ply tires, as well as greater puncture resistance. They perform best on flat terrain because the stiff carcass makes uneven surfaces feel bumpier.
You could find tire specifications on the sidewall of the tire as below photo shows.
How to read ATV tire specifications?
Take 25×10-12 as an example
25 refers to overall diameter in inches
10 refers to section width in inches
– refers to bias construction (while R refers to radial construction)
12 refers to wheel diameter in inches
If you still have some questions about what size of tires you should buy, then we have prepared a table as well. 
In this form there are many models and its corresponding tire sizes for your reference.
ATV Tire and Application Chart
| | |
| --- | --- |
| ARCTIC CAT | OEM TIRE SIZE |
| 250 2WD/4WD, 99-07 (F) | 23x8x12 |
| 250 2WD/4WD, 99-07 (R) | 24x9x12 |
| 250 2WD/4WD, 07-08 (F) | 22x7x10 |
| 250 2WD/4WD, 07-08 (R) | 22x10x10 |
| DVX 250 2WD/4WD, 07-08 (R) | 22x7x10 |
| DVX 250 2WD/4WD, 07-08 (R) | 20x11x9 |
| DVX 300 2WD, 09-12 (F) | 21x7x10 |
| DVX 300 2WD, 09-12 (R) | 20x11x9 |
| 300 2WD, 98-03 (F) | 23x8x12 |
| 300 4WD, 98-00 (F) | 24x9x12 |
| 300 4WD, 01 (F) | 23x8x12 |
| 300 2WD/4WD, 98-00 (R) | 25x10x12 |
| 300 2WD/4WD, 01 (R) | 23x10x12 |
| 300 4WD, 02-03 (F) | 24x9x12 |
| 300 2WD/4WD, 02-03 (R) | 25x10x12 |
| 366 2WD/4WD, 07-08 (F) | 24x8x12 |
| 366 2WD/4WD, 07-08 (R) | 24x10x12 |
| 400i 2WD/4WD, 02-08 (F) IRS * | 25x8x12 |
| 400i 2WD/4WD, 02-08 (R) IRS * | 25x11x12 |
| DVX 400 2WD, 04-08 (F) | 22x7x10 |
| DVX 400 2WD, 04-08 (R) | 20x11x9 |
| 450i 4WD, 11-13 (F) IRS * | 25x8x12 |
| 450i 4WD, 11-13 (F) IRS * | 25x10x12 |
| 500i 4WD, 02-13 (F) IRS * | 25x8x12 |
| 500i 4WD, 02-13 (R) IRS * | 25x11x12 |
| 650i 4WD, 04-13 (F) IRS * | 26x8x12 |
| 650i 4WD, 04-13 (R) IRS * | 26x11x12 |
| 700i 4WD, 07-12 (F) IRS | 26x8x12 |
| 700i 4WD, 07-13 (R) IRS | 26x11x12 |
| 1000 Thundercat 4WD, 08-13 (F) IRS * | 26x8x12 |
| 1000 Thundercat 4WD, 08-13 (R) IRS * | 26x11x12 |
| Prowler, 06-16 (F) | 26x9x14 |
| Prowler, 06-16 (R) | 26x11x14 |
| Wildcat 4WD, 12-16 (F) | 26x9x14 |
| Wildcat 4WD, 12-16(R) | 26x11x14 |
| CAN-AM / BOMBARDIER | OEM TIRE SIZE |
| Outlander 330, 03-10 (F) | 25x8x12 |
| Outlander 330, 03-10 (R) | 25x10x12 |
| Outlander 400, 03-16 (F) | 25x8x12 |
| Outlander 400, 03-16 (R) | 25x10x12 |
| Outlander 500, 07-16 (F) | 26x8x12 |
| Outlander 500, 07-16 (R) | 26x11x12 |
| Outlander 650, 06-16 (F) | 26x8x12 |
| Outlander 650, 06-16 (R) | 26x11x12 |
| Outlander 800, 06-16 (F) | 26x8x12 |
| Outlander 800, 06-16 (R) | 26x11x12 |
| Outlander 1000, 12-16 (F) | 26x8x12 |
| Outlander 1000, 12-16 (R) | 26x11x12 |
| Traxter 500 4WD, 99-05 (F) | 25x8x12 |
| Traxter 500 4WD, 99-05 (R) | 25x10x12 |
| Quest 500 4WD, 00-05 (F) | 25x8x12 |
| Quest 500 4WD, 00-05 (R) | 25x10x12 |
| Quest 650 4WD, 00-05 (F) | 25x8x12 |
| Quest 650 4WD, 00-05 (R) | 25x10x12 |
| DS 450, 07-15 (F) | 21x7x10 |
| DS 450, 07-15 (R) | 20x10x9 |
| DS 650, 00-07 (F) | 21x7x10 |
| DS 650, 00-07 (R) | 20x11x9 |
| Renegade 500 / 800, 07-13 (F) | 25x8x12 |
| Renegade 500 / 800, 07-13 (R) | 25x10x12 |
| Renegade 1000, 12-16 (F) | 25x8x12 (X XC)
30x9x14 (X MR) |
| Renegade 1000, 12-16 (R) | 25x10x12 (X XC)
30x11x14 (X MR) |
| Commander 800 / 1000, 11-16 (F) | 27x9x12 |
| Commander 800 / 1000, 11-16 (R) | 27x11x12 |
| Maverick 1000, 13-16 (F) | 27x9x12 |
| Maverick 1000, 13-16 (R) | 27x11x12 |
| | |
| --- | --- |
| HONDA | OEM TIRE SIZE |
| TRX 70, 86-87 (F) | 16x8x7 |
| TRX 70, 86-87 (R) | 16x8x7 |
| TRX 90, 93-03 (F) | 20x7x8 |
| TRX 90, 93-03 (R) | 19x8x8 |
| ATC 90/110, Thru 81 (R) | 22x11x8 |
| ATC 110/125/125M, 82-87 (R) | 22x11x8 |
| TRX 125, 87-88 (F) | 20x7x8 |
| TRX 125, 85-88 (R) | 22x10x8 |
| ATC 185S, Thru 81 (R) | 22x11x8 |
| ATC 185S, 82-84 (R) | 22x11x8 |
| ATC 185/200/Big Red, 80-84 (R) | 25x12x9 |
| ATC 200S, 84/85 (R) | 22x11x8 |
| ATC 200M, Thru 85 (R) | 25x12x9 |
| ATC 200X, 83-85 (R) | 22x11x8 |
| ATC 200X, 86-87 (R) | 22x10x9 |
| TRX 200, 90-93, 96-97 (F) | 21x7x10 |
| TRX 200, 90-93, 96-97 (R) | 22x10x8 |
| TRX 200, 84 (R) | 25x12x9 |
| TRX 200SX, 86-88 (R) | 22x11x8 |
| ATC 250 Big Red, 85 (R) | 25x12x9 |
| TRX 250 Big Red, 86-87 (F) | 21x7x10 |
| TRX 250 Big Red, 85-87 (R) | 25x12x9 |
| ATC 250SX, 85-87 (R) | 22x11x8 |
| ATC 250R, 81 (R) | 22x11x8 |
| ATC 250R, 82 (R) | 22x11x8 |
| ATC 250R, 83-84 (R) | 22x11x8 |
| ATC 250R, 85-86 (R) | 20x10x9 |
| TRX 250R, 86-89 (F) | 22x7x10 |
| TRX 250R, 86-89 (R) | 20x10x9 |
| TRX 250X, 86-87 (F) | 22x7x10 |
| TRX 250X, 88, 90-92 (F) | 22x7x10 |
| TRX 250X, 86-92 (R) | 20x10x9 |
| TRX 250 RECON, 97-09 (F) | 22x7x11 |
| TRX 250 RECON, 97-09 (R) | 22x10x9 |
| TRX 250EX, 00-09 (F) | 22x7x10 |
| TRX 250EX, 00-09 (R) | 22x10x9 |
| TRX 300EX, 93-09 (F) | 22x7x10 |
| TRX 300EX, 93-09 (R) | 20x10x9 |
| ATC 350X, 85-86 (R) | 22x11x9 |
| TRX 300 2WD, 88-92 (F) | 23x8x11 |
| TRX 300 2WD, 93-00 (F) | 23x8x11 |
| TRX 300 2WD, 88-00 (R) | 25x12x9
(also 24x9x11) |
| TRX 300 4WD, 88-00 (F) | 23x8x11 |
| TRX 300 4WD, 88-00 (R) | 24x9x11 |
| TRX 350 4WD, 86-92 (F) | 24x9x11 |
| TRX 350 4WD, 86-92 (R) | 24x9x11 |
| TRX 350 RANCHER S-ES 2WD 00-09 (F) | 24x8x12 |
| TRX 350 RANCHER S-ES 2WD 00-09 (R) | 25x11x10 |
| TRX 350 RANCHER S-ES 4WD 00-09 (F) | 24x8x12 |
| TRX 350 RANCHER S-ES 4WD 00-09 (R) | 24x9x11 |
| TRX 400/420 RANCHER AT 4WD, 04-09 (F) | 24x8x12 |
| TRX 400/420 RANCHER AT 4WD, 04-09 (R) | 24x10x11 |
| TRX 420 RANCHER AT 4WD, 2009 (F) IRS* | 24x8x12 |
| TRX 420 RANCHER AT 4WD, 2009 (R) IRS* | 24x10x11 |
| TRX 400EX, 99-09 (F) | 22x7x10 |
| TRX 400EX, 99-09 (R) | 20x10x9 |
| TRX 400 FOREMAN 4WD, 96-06 (F) | 24x8x11 |
| TRX 400 FOREMAN 4WD, 96-06 (R) | 24x10x11 |
| TRX 450 FOREMAN S-ES 4WD, 98-04 (F) | 25x8x12 |
| TRX 450 FOREMAN S-ES 4WD, 98-04 (R) | 25x10x12 |
| TRX 500 FOREMAN S-ES 4WD, 05-16 (F) | 25x8x12 |
| TRX 500 FOREMAN S-ES 4WD, 05-16 (R) | 25x10x12 |
| TRX 450R 2WD, 04-09 (F) | 22x7x10 |
| TRX 450R 2WD, 04-09 (R) | 20x10x9 |
| TRX 500 RUBICON 4WD, 01-16(F) | 25x8x12 |
| TRX 500 RUBICON 4WD, 01-16 (R) | 25x10x12 |
| TRX 650 RINCON, 03-07 (F)+ | 25x8x12 |
| TRX 650 RINCON, 03-07 (R)+ | 25x10x12 |
| TRX 680 RINCON, 06-16 (F) IRS *+ | 25x8x12 |
| TRX 680 RINCON, 06-16 (R) IRS *+ | 25x10x12 |
| TRX 700XX, 08-09 (F) | 21x7x10 |
| TRX 700XX, 08-09 (R) | 22x9x11 |
| ODYSSEY, 77-81 (F) | 20x7x8 |
| ODYSSEY, 77-81 (R) | 22x11x8 |
| ODYSSEY, 82-84 (R) | 22x11x8 |
| ODYSSEY, 85-86 (F) | 21x7x10 |
| ODYSSEY, 85-86 (R) | 24x11x10 |
| PILOT, 89-90 (F) | 21x7x10 |
| PILOT, 89-90 (R) | 24x11x10 |
| Big Red MUV700, '09-'13 (F) | 25x8x12 |
| Big Red MUV700, '09-13 (R) | 25x10x12 |
| Pioneer 500/700, All (F) | 25x8x12 |
| Pioneer 500/700, All (R) | 25x10x12 |
| Pioneer 1000, All (F) | 25x8x12 |
| Pioneer 1000, All (R) | 25x8x12 |
| KAWASAKI | OEM TIRE SIZE |
| 220 Bayou, 88-02 (F) | 22x8x9 |
| 220 Bayou, 88-02 (R) | 22x10x10 |
| KLT 250, 82-85 (R) | 25x12x9 |
| KXT 250 Tecate, 84 (R) | 22x11x10 |
| KXT 250 Tecate, 85-87 (R) | 22x11x10 |
| KXT 250 Tecate-4, 87-88 (F) | 21x7x10 |
| KXT 250 Tecate-4, 87-88 (R) | 22x11x10 |
| KSF 250 Mojave, 87-06 (F) | 21x7x10 |
| KSF 250 Mojave, 87-06 (R) | 22x11x10 |
| 250 Bayou 2WD, 03-12 (F) | 21x8x9 |
| 250 Bayou 2WD, 03-12 (R) | 22x10x10 |
| 300 Bayou 300 2WD, 85-05 (F) | 22x9x10 |
| 300 Bayou 300 2WD, 85-05 (R) | 24x11x10 |
| 300B Lakota 300B, 95-00 (F) | 22x8x10 |
| 300B Lakota 300B, 95-00 (R) | 22x11x10 |
| Bayou 300 4WD, 89-05 (F) | 24x8x11 |
| Bayou 300 4WD, 89-05 (R) | 24x10x11 |
| Prairie 300 2WD/4WD, 99-05 (F) | 25x8x12 |
| Prairie 300 2WD/4WD, 99-05 (R) | 25x11x10 |
| Prairie 360 2WD/4WD, 03-12 (F) | 25x8x12 |
| Prairie 360 2WD/4WD, 03-12 (R) | 25x10x12 |
| Prairie 400 2WD/4WD, 97-05 (F) | 25x8x12 |
| Prairie 400 2WD/4WD, 97-05 (R) | 25x12x10 |
| KLF 400 Bayou 4WD, 93-05 (F) | 24x8x11 |
| KLF 400 Bayou 4WD, 93-05 (R) | 24x10x11 |
| KFX 400 2WD, 03-05 (F) | 22x7x10 |
| KFX 400 2WD, 03-05 (R) | 20x10x9 |
| KFX 450R 2WD, 08-12 (F) | 22x7x10 |
| KFX 450R 2WD, 08-12 (R) | 20x10x9 |
| Prairie 650/700 4WD, 02-06 (F) | 25x8x12 |
| Prairie 650/700 4WD, 02-06 (R) | 25x10x12 |
| Brute Force 650 4WD, 03-12 (F) | 25x8x12 |
| Brute Force 650 4WD, 03-12 (R) | 25x10x12 |
| Brute Force 650i 4WD, 06-12 (F) IRS * | 25x8x12 |
| Brute Force 650i 4WD, 06-12 (R) IRS * | 25x10x12 |
| Brute Force 750i 4WD, 05-07 (F) IRS * | 25x8x12 |
| Brute Force 750i 4WD, 05-07 (R) IRS * | 25x10x12 |
| Brute Force 750i 4WD, 08-16 (F) IRS * | 25x8x12 |
| Brute Force 750i 4WD, 08-16 (R) IRS * | 25x10x12 |
| KFX 700 2WD, 03-10 (F) | 22x7x10 |
| KFX 700 2WD, 03-10 (R) | 22x11x10 |
| Mule 500 (F) – 10mm studs | 22x9x10 |
| Mule 500 (R) – 10mm studs | 22x11x10 |
| Mule 600 (F) – 10mm studs | 22x9x10 |
| Mule 600 (R) – 10mm studs | 22x11x10 |
| Mule 1000/2500 (F&R) – 12mm studs | 22x11x10 |
| Mule 3000/3010/4010 (F&R) – 12mm studs | 23x11x10 |
| | |
| --- | --- |
| YAMAHA | OEM TIRE SIZE |
| Grizzly 80, 06-08 (F) | 18x7x7 |
| Grizzly 80, 06-08 (R) | 18x8x8 |
| YFM 100T Moto-4, 87-90 (R) | 20x9x8 |
| YFA 125 Breeze, 89-04 (F) | 20x7x8 |
| YFA 125 Breeze, 89-04 (R) | 22x10x8 |
| Grizzly 125 Breeze, 05-09 (F) | 20x7x8 |
| Grizzly 125 Breeze, 05-09 (R) | 22x10x8 |
| YT 125/175 Tri-Moto, 81-85 (R) | 22x11x8 |
| YTM 200 E/L/R Tri-Moto, 83/86 (R) | 25x12x9 |
| YTM 200 DX, 88-90 (F) | 22x8x10 |
| YTM 200 DX, 88-90 (R) | 22x11x8 |
| YSF 200 Blaster, 88-07 (F) | 21x7x10 |
| YSF 200 Blaster, 88-07 (R) | 21x10x8 |
| YTM 225 DX/DR Tri-Moto (R) | 22x11x8 |
| YFM 225 Moto-4, 85-87 (F) | 22x8x10 |
| YFM 225 Moto-4, 85-87 (R) | 25x12x9 |
| YFM 250 Moto-4, 89 (F) | 22x8x10 |
| YFM 250 Moto-4, 89 (R) | 25x12x9 |
| YFB 250 Timberwolf 2×4, 92-94 (F) | 22x7x10 |
| YFB 250 Timberwolf 2×4, 95-98 (F) | 22x7x10 |
| YFB 250 Timberwolf 2×4, 92-98 (R) | 22x11x10 |
| Bear Tracker 250, 99-05 (F) | 22x7x10 |
| Bear Tracker 250, 99-05 (R) | 22x10x10 |
| Big Bear 250, 06-09 (F) | 22x7x10 |
| Big Bear 250, 06-09 (R) | 22x10x10 |
| YFB 250 Timberwolf 4×4, 95-05 (F) | 23x8x10 |
| YFB 250 Timberwolf 4×4, 95-05 (R) | 23x10x10 |
| Bruin 250, 05 (F) | 22x7x10 |
| Bruin 250, 05 (R) | 22x10x10 |
| YTZ 250 Tri-Z, 85 (R) | 22x11x8 |
| YTZ 250 Tri-Z, 86 (R) | 22x11x9 |
| 250 Raptor, 08 (F) | 20x7x10 |
| 250 Raptor, 08 (R) | 19x10x9 |
| YFM 350 XT Warrior, 87-05 (F) | 22x7x10 |
| YFM 350 XT Warrior, 87-05 (R) | 22x10x9 |
| YFM 350/450 Wolverine, 95-08 (F) | 23x8x12 |
| YFM 350/450 Wolverine, 95-08 (R) | 23x10x12 |
| YFZ 350 T Banshee, 87-06 (F) | 21x7x10 |
| YFZ 350 T Banshee, 87-88, 91-06 (R) | 22x10x9 |
| YFZ 350 T Banshee, 89-90 (R) | 22x11x10 |
| YFM 350 ER Moto-4, 87-88 (F) | 22x8x10 |
| YFM 350 ER Moto-4, 89-95 (F) | 22x8x10 |
| YFM 350 ER Moto-4, 87-92 (R) | 25x12x9 |
| YFM 350 ER Moto-4, 93-95 (R) | 25x12x9 |
| 350 Big Bear 2WD, 96-05 (F) | 25x8x12 |
| 350 Big Bear 2WD, 96-99 (R) | 25x12x9 |
| 350 Big Bear 2WD, 00-05 (R) | 23x10x10 |
| 350/400 Big Bear 4WD, 87-06 (F) | 25x8x12 |
| 350/400 Big Bear 4WD, 87-06 (R) | 25x10x12 |
| 350 Big Bear 4WD, 07-08 (F) Straight-Axle | 25x8x12 |
| 350 Big Bear 4WD, 07-08 (R) Straight-Axle | 25x10x12 |
| 350/450 Grizzly 4WD, 07-13 (F) IRS * | 25x8x12 |
| 350/450 Grizzly 4WD, 07-13 (R) IRS * | 25x10x12 |
| YFM 350 Bruin 4WD, 04-06 (F) | 25x8x12 |
| YFM 350 Bruin 4WD, 04-06 (R) | 25x10x12 |
| YFM 350 Raptor, 04-12 (F) | 22x7x10 |
| YFM 350 Raptor, 04-12 (R) | 20x10x9 |
| 400 Big Bear 4WD, 07-13 (F) IRS * | 25x8x12 |
| 400 Big Bear 4WD, 07-13 (R) IRS * | 25x10x12 |
| YFM 400/450 Kodiak 2WD, 93-04 (F) | 25x8x12 |
| YFM 400/450 Kodiak 2WD, 93-04 (R) | 25x10x12 |
| YFM 400/450 Kodiak 4WD, 93-04 (F) | 25x8x12 |
| YFM 400/450 Kodiak 4WD, 93-04 (R) | 25x10x12 |
| YFM 400/450 Kodiak 4WD, 05-06 (F) IRS * | 25x8x12 |
| YFM 400/450 Kodiak 4WD, 05-06 (R) IRS * | 25x10x12 |
| YFZ 450 2WD, 04-12 (F) | 21x7x10 |
| YFZ 450 2WD, 04-12 (R) | 20x10x9 |
| YFM 550 Grizzly 4WD, 09-12 (F) IRS * | 25x8x12 |
| YFM 550 Grizzly 4WD, 09-12 (R) IRS * | 25x10x12 |
| YFM 600 Grizzly 4WD, 98 (F) | 25x8x12 |
| YFM 600 Grizzly 4WD, 98 (R) | 25x10x10 |
| YFM 600 Grizzly 4WD, 99-01 (F) | 25x8x12 |
| YFM 600 Grizzly 4WD, 99-00 (R) | 25x10x12 |
| YFM 600 Grizzly 4WD, 01 (R) | 25x10x10 |
| YFM 660/700R Raptor 2WD, 01-10 (F) | 21x7x10 |
| YFM 660/700R Raptor 2WD, 01-10 (R) | 20x10x9 |
| YFM 660 Grizzly 4WD, 02-10 (F) IRS * | 25x8x12 |
| YFM 660 Grizzly 4WD, 02-10 (R) IRS * | 25x10x12 |
| YFM 700 Grizzly 4WD, 07-16 (F) IRS * | 25x8x12 |
| YFM 700 Grizzly 4WD, 07-16 (R) IRS * | 25x10x12 |
| YFM 450/660/700 Rhino 4WD, 04-14 (F) IRS * | 25x8x12 |
| YFM 450/660/700 Rhino 4WD, 04-14 (R) IRS * | 25x10x12 |
| 700 Viking, '14-'16 (F) IRS * | 25x8x12 |
| 700 Viking, '14-'16 (R) IRS * | 25x10x12 |
| YXZ1000R, '16-'18 (F) | 27x9x14 |
| YXZ1000R, '16-'18 (R) | 27x11x14 |
| YXZ1000R, 2019 (F) IRS * | 27x9x14 |
| YXZ1000R, 2019 (R) IRS * | 27x11x14 |