Freight & shipping costs & delays
Seasonality, a drop in available exports, and inflation's impact on European consumer demand are causing decreased Asia-Europe pricing, while ongoing pandemic-related delays and closures are likewise driving down Asia-North America ocean rates – though these remain extremely elevated compared to pre pandemic prices.
As the lockdown in Shanghai stretches on – and restrictions increase in Beijing and elsewhere – the availability of exports is down significantly. Though authorities are trying to jumpstart production, manufacturing continues to drag. And with the city's trucking capacity down an estimated 45% it is difficult to get imported materials from the ports to the factories – or available shipments from factories to ports.
These factors have led to an estimated 20-30% drop in export volumes out of Shanghai since the lockdown began and a two-day wait for arriving vessels. Many shippers are diverting exports to Ningbo where export volumes have increased 14%, causing additional congestion.
Ocean freight rate increases and transit times
The latest outbreak in Shanghai is not contained and is spreading to other Chinese hubs. The lockdown is expected to be lifted mid-May at the earliest and continues to contribute to widespread disruption. Though Shanghai's air and ocean ports remain open, labor shortages are slowing operations. In addition, the availability of goods has dropped since manufacturing and warehouses are closed, and trucking is limited due to quarantine rules and travel restrictions.  
Ports like Yangshan are reportedly operating at 50% capacity, leading some shippers to seek alternate ports like Ningbo, resulting in growing backlogs of ships across multiple ports.
Transpacific rates have fallen 5-7% since mid-March, and Asia-Europe rates reached their lowest level since last June – though prices on both lanes remain extremely elevated compared to pre-pandemic levels.
The period between Lunar New Year (LNY) and summer peak shipping season is typically slow in ocean freight, so seasonality could be contributing to the 27% decline on Asia-Europe prices since late January.  But rates fell only 12% after LNY last year, which could mean that inflation is also having an impact. 
Transpacific rates, on the other hand, have not dropped significantly post-LNY or since the Shanghai outbreak points, indicating that underlying demand from the US is the main factor on these lanes.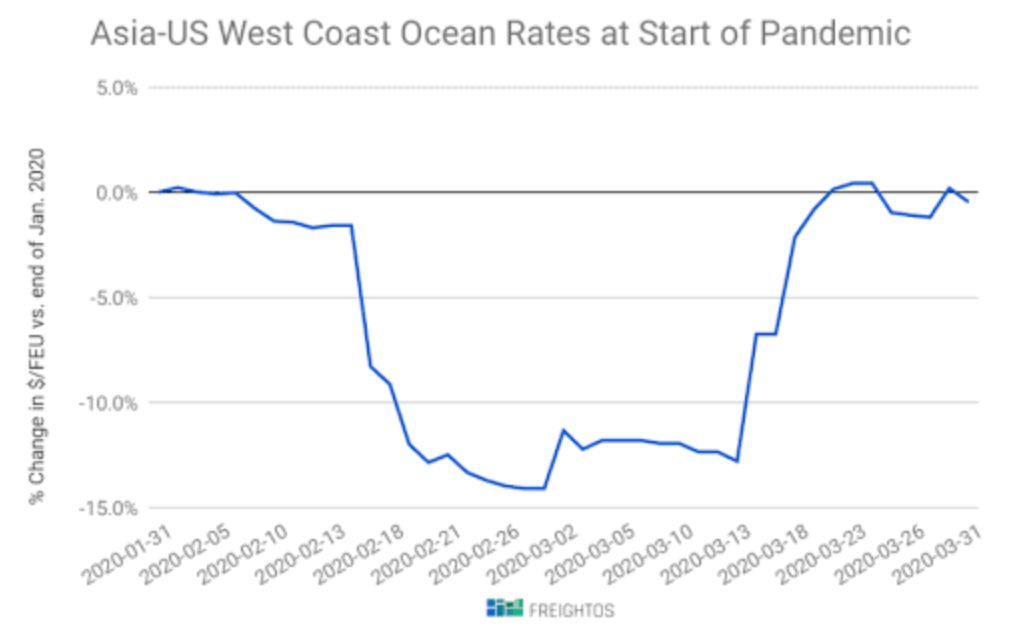 When Shanghai reopens, the rebound will cause a surge in ocean volumes that will likely increase congestion, delays, and ocean rates. But with ports operational  and most vessels still making Shanghai port calls, imports needed for manufacturing and empty containers needed for exports will be in place which could speed the recovery.
These are container freight rates for May 1, 2022 according to the Freightos Baltic Index:

When will freight rates and shipping prices go down?
In the current situation, many importers and exporters are wondering when they can expect freight rates and shipping prices to go down. The answer? Not yet.
But, despite potential delays and high freight shipping costs, there are a few steps importers can take right now:
How to navigate the current freight market:
1. Compare at least a few quotes and modes to make sure you are getting the best cost and most efficient service possible.
2. Buffer your freight budget and transit time for changes. Costs due to unforeseen delays or limited capacity can arise, so be prepared.
3. Explore warehousing options to mitigate the effects of lowered demand and business restrictions in the US.
4. Pay attention to the profitability of your goods and consider if a pivot could be worthwhile. Additionally, remember to factor in freight costs when assessing profitability