SOLID TIRE FOR SKIDSTEER LOADERS
1.What is a solid tire?
Different from pneumatic tire, the solid tire body is solid, they do not need steel cord as a framework and inflate air in the tire, either. Thus no inner tube or inner airtight liner inside of the skidsteer solid tire.
Solid tires are specialized for high load capacity vehicles and machines at low speeds, if the speed is too high, heat dissipation is a problem if running speed is too high for solid tires.
So the rubber material for making solid tire should have features of the high elasticity, heat dissipation and wear resistance.
2.Applications:

3.Our tire features:
traction tread with deep stepped self-cleaning lugs 3 to 4 times deeper than pneumatic
excellent traction
specially formulated compound for high cut resistance and very long wear
unique inverted triangle/roundshaped apertures greatly reduce risk of side wall cracks and provide air like ride, cool running and excellent lateral stability
included wheel installs easily on machine
4.Major sizes of skidsteer solid tire.
| | | |
| --- | --- | --- |
| Solid tire size | Equivalent Pneumatic tire size | container stuffing quantity |
| 31*6*10 | 10-16.5 | 190pcs/20ft |
| 33*6*11 | 12-16.5 | 150pcs/20ft |
| 31*10*20 | 10-16.5 | 190pcs/20ft |
| 33*12*20 | 12-16.5 | 150pcs/20ft |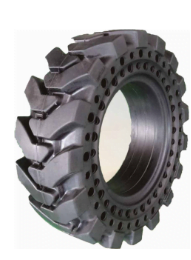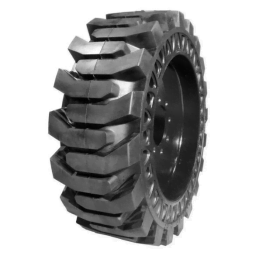 5.Fitting wheels is optional:
WHEEL DATA: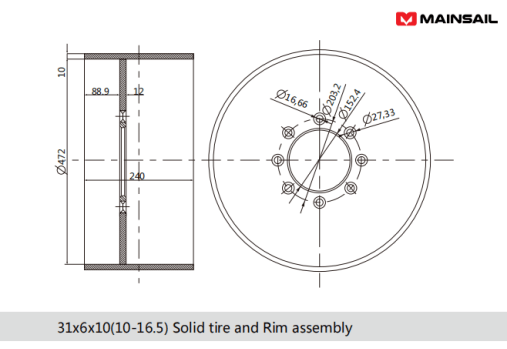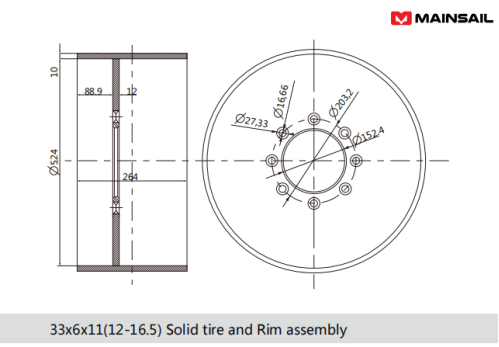 6. Skidsteer solid tire operation in field