1. The bad cases of skid-steer tires
Skid-steer tires play an important role on productivity and safety, in the application of doing landscaping, excavation, roadwork, general dirt work, mining, or other skid-steer loader uses. However, the performance will suffer as long as you're not using the right type of tire for the job.
Apart from choosing the appropriate tire type for the work, closely inspecting the quality of tires also makes sense. Bad quality tires turn out to be unserviceable in a short time, which will cause a more costly replacement definitely. Thus, checking for wear, punctures, rim damage, and other problems to avoid unsafe, inefficient operations and the potential to ruin parts is extremely important.
In order to avoid the unnecessary consumption, choose the best tires from start!
The following pictures are some bad cases of the skid-steer tires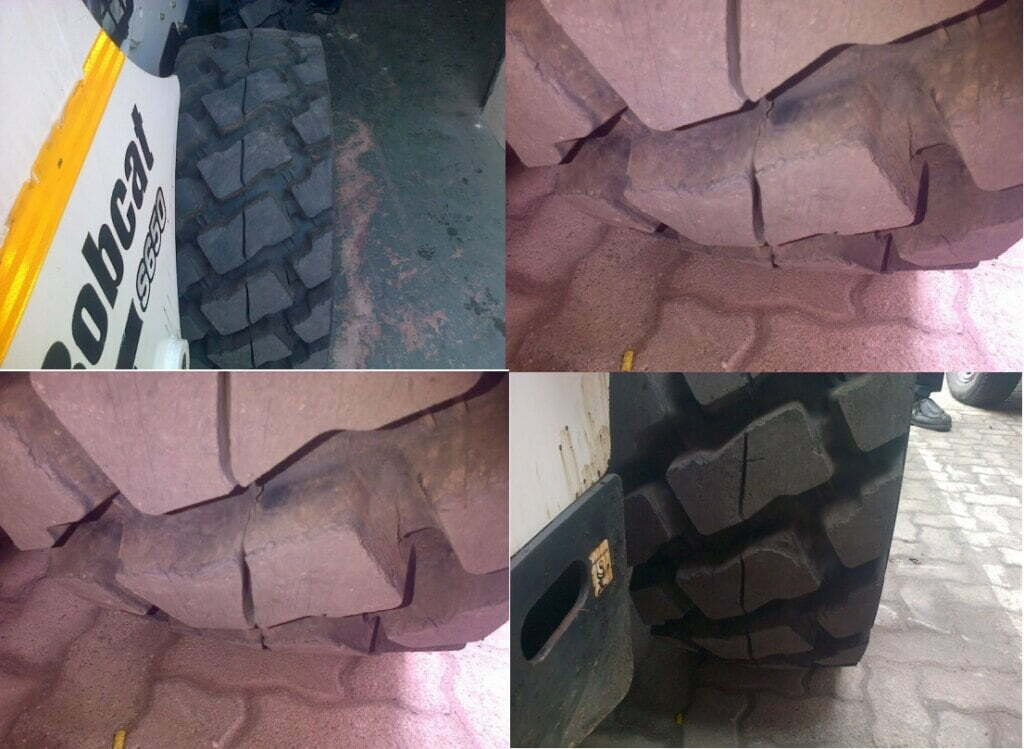 The causes for tire failure are complex, such as tread separation, tread and steel belt separation, tire made without all specified components, Belt and ply losses, improper puncture repair, tire not suitable for vehicle, sidewall failure, retread failure, tire damaged during the mounting process, manufacturing defects, and the depth of pattern, the weight of tires also make sense. 
2. Things to consider when choosing skid-steer tires:
The compounds used to build the tires vary widely among manufacturers. The materials also depend on whether you have pneumatic or solid cushion tires. 
For solid cushion tires, you have three layers of various rubber materials, and each segment has a specific purpose. The innermost secures the tire to the rim without tearing, the middle layer cushions the ride and the top layer provides a protective barrier against debris damage.
For pneumatic tires, the composition depends on the use. Regular duty tires are made of standard rubber, whereas heavy duty ones have extra-strong rubber that cuts down on wear. For extreme conditions, the most robust pneumatic tires have stronger rubber, more rubber and greater depth. These three attributes ensure these tires can sustain rough handling and use in rugged terrain while still cushioning the ride. However, even the heftiest pneumatic tires require regular air checks to ensure proper operation.

Tire Weight:
| | | | |
| --- | --- | --- | --- |
| SIZE | PLY RATING | TREAD DEPTH(mm) | WEIGHT(kg) |
| 10-16.5 | 10PR | 35.0 | 36 |
| 12-16.5 | 12PR | 35.0 | 44.2 |
MAINSAIL-L5 XDD/ L5 XDT
Mainsail enjoys good reputation in producing brand new tires. The tires are in good quality and have truly been mounted on different types of vehicles. These years, Mainsail has become very popular to dealers trailer manufacturers around South Korea. The extra deep thread design and the extra thick sidewalls on Mainsail provide exceptional durability and minimize the risk of punctures and accidental damages.